---
You are commenting using your Twitter account. You are commenting using your Facebook account.
Browse more videos
Notify me of new comments via email. Notify me of new posts via email.
Open source image editor gets even better?
christmas wallpaper for mac computers?
on interaction architecture!
unix executable file mac download!
change mac address ios 7 cydia?
download pdf to word mac.
mac os x mountain lion caffeinate;
This site uses Akismet to reduce spam. Learn how your comment data is processed. Skip to content. Like this: Like Loading Published August 18, Leave a Reply Cancel reply Enter your comment here Fill in your details below or click an icon to log in:. Email required Address never made public. Name required. I have been waiting for this for years! Now it is going to be fun and more fun to work with GIMP! But I don't understand your concerns against split window editing.
The half that is active simply gets a red box around it, and all actions go there Think of cloning a bit of one image to another image. Good with tabs, better in splitview.
Engadget is now a part of Verizon Media
Like that idea? Although I like the polaroid function for just viewing, but think it's a bad idea not to be able to have two or move windows open in your workspace. Workflow should be far more important then sticking the the technical meaning of "single window" Love the other ideas though, tumbnails instead of named tabs gets the thumbs up from me. And being able to dock docks next to eachother is great too. Keep up the good work. GIMP is great and I appreciate it every single day.
https://tocomvilires.tk But please think about having the option to float windows in your workspace. Like I said in the mailing list. An option to rightclick on an image and have both "polaroid" and "float image" as possibility would make the interface just perfect.
To Anonymous, The eyedropper that you can see in the window that pops up when you click on your foreground colour is able to pick any colour on the screen. Really handy feature.
Next story. The docking bars have been removed and replaced with overlaid highlights. When several images are open, a new bar appears above the image window, with a tab for every image. The list search field automatically closes after five seconds if you do nothing. It is possible to do a few very basic things without using the Layers dialog, but even moderately sophisticated GIMP users find it indispensable to have the Layers dialog available at all times.
If the latter was not open yet, it will be on-the-fly. I'll be looking forward to try out the 2. Except one thing, why not window-in-window? You could make it exactly like what you've described by maximizing one of the sub-windows, so there's no disadvantage at all from a user point of view. The advantages are 1 simplicity - if you want to see four images tiled that's something users familial with windows already know how to do, why add a whole new elememt polaroids 2 window-in-window would allow locking of zooming and scrolling, so that while you zoom and scroll around the active image window you could have that locked to zoom and scroll around anotehr image, something you were using to help with the active one.
Say you were doing this with just two images, with the polaroid idea you'd either have to have polaroids of both of them open all the time, even when your'e in one of them, or you'd have to keep closing and re-opening polaroids each time you switch window.
Basically, and this is the gist of my post, I don't see why we need to lose one of the few advantages of the multiwindow layout when we make the switch to single window. Why not have window-in-waindow, given that by maximizing a sub-window you can have the same single-window interface you've described, without losing the one multiwindow advantage? I'm sure you've thought about all this, so I doubt my thoughts will make any difference, and I want to end by saying I love the rest of the ideas there, and I very much appreciate the work you're putting in!
Keep up the excellent work! Has such a strict single window interface ever been done before? If not my guess is that there is a reason for it not existing Window management should be done by the window manager. Confusing the issue with complicated app specific setups is only rarely worth it Blender I'm looking forward to seeing the experiments though.
GIMP introduces an optional single-window mode. You can toggle between the default multi-window mode and the new single-window mode through the. GIMP has come out and Simone Karin has created packages for Mac OS X. One major innovation of this version is the single-window.
Hopefully the results will be amazing! I can't wait. It would be nice if you could "split" the main display area so that you could easily switch between two images that are visible at the same time. Maybe clicking on the grey area around the image would focus it thereby changing its colour, as well as highlighting its corresponding thumbnail in the "parade" of images.
And if you're working on several smaller images, you could further "split" a pane into smaller chunks say horizontally instead of vertically, or vice versa to the main split so that you could see several images at once without having to switch the entire view to that small image. I wonder if it will be as fast as you say to implement, but anyway: it had to be done. Thanks a lot for this, it will not only be great for many existing GIMP users, but also for migrating users.
on interaction architecture
I look forward to see it! All the best. Waldir: thanks, corrected. What if the user has opened several revisions of a similar document, or has created a version for editing in an external program, or has created and saved different versions at different resolutions. With your current tab concept there is no easy way to tell the difference between them since the filename is not visible. This makes the design get in the way of a relatively natural workflow.
Secondly, if you're working on an extremely big document, I can see a potential frustrating user experience if Gimp tries to close that large document every time you switch tab to save memory, and then reopens it again, requiring a long reload from the disk. As such, you probably need to have special behaviour for large images to prevent such frustration.
Finally, a see an issue for people with low-resolution screens as the tab concept will likely take significant space that makes any usage of the application very difficult. Perhaps if the size of the split top section is small enough, it switches to text-only faux-tabs? The workflow going something like this: -Image 1 and Image 2 it's often mroe than two, but I'm using two in this example are part of a set, I want to do a change to each one, and they need to match.
So that's why I like to be able to work on two or more images side by side. If that could be enhanced by simple things such as locking the scrolling and zooming between two or more side by side images, that would be great. Oh, and imagine if you could link a layer from one image to others, so that changes in one appear in the others in realtime?
Opinions about Gimp!
nod32 for mac serial number!
How Verizon Media and our partners bring you better ad experiences?
create computer to computer network mac ethernet.
OMG that would be awsome! While I'm on the subject, is it possible to grab a bunch of commands from an image's undo history and apply them to another image, or make a macro out of them? If not, that would be ace too. But I'm going rather off topic here aren't I? By the way, I absolutely love the thumbnails, there is nothing I would change about your proposed implementation there, the history function, the lack of differentiation between open and unopen files would require some thought to intergrate with WiW, with I haven't thought about, but I love it anhyway , the stars indicating unsaved changes, it's perfect!
I'm a woman, I multi task. I was creating two collages of polaroids the old fashioned ones, lol.
Account Options.
Opening the GIMP Layers Palette.
mac os screenshot als jpg?
Help! I'm Missing a Dialog or Window in GIMP!!
gratis website maken op mac;
mac bootcamp windows 10 problems!
C.1: Gimp - A 2D Painting Program.
One for a mother and one for her daughter. They wanted some of the same photos in it and some different ones. So I was creating them at the same time.
Doing one thing in the first image and the same in the other. Sharing layers between the images, of the polaroid frames etc. Rotating and sharpening the photos with the same settings.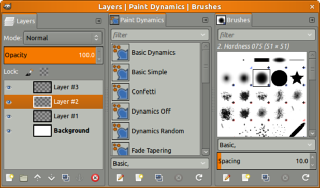 Comparing and working on them side by side. Hope this helps. Often I'm working on graphic ideas which involve working with as many as 12 to 15 images in the same window, switching back and forth over and over from one image to another while making use of zoom in three images and using a fourth for comparison, etc. The Gimp should be awesome, fun, attractive, but as a graphic powerhouse also able to reduce time on heavy graphic workloads.
And that only works if the user is able to open numerous images within a single open window while using those images any which way.